Every baseball fan remembers going to their first major league game as a child. Your little league coach, a parent or relative guided you through a large portal up and out into the grand stands and you caught your very first glimpse of the ball field and massive stadium. Laid out before you was the infield, the pitcher's mound, baselines and the gloriously green outfield. If you were lucky and it was a day game with the sun shining and a big blue sky it became your indelible "Field Of Dreams" memory. It may have been Fenway Park, Dodger Stadium, Camden Yards or maybe at Yankee Stadium where I had my experience. That feeling I had as a kid going through the tunnel to the stands in Yankee Stadium is the closest thing I can explain to the feeling I still get today when I walk out onto an empty stage for sound check, especially in a place like Symphony Hall in Boston. It never gets old, looking out at those empty seats, taking in all the details of the hall: the stage lights and chandeliers, the cross beams on the ceiling, the sculptures and carvings.There's a feeling of anticipation and a sense of excitement that any performer knows. Because just like sports, you don't really know how it's all going to turn out.
At Symphony Hall you enter the stage through a large white door that actually has a peephole so the stage manager can see the into house without opening it. How many musicians, singers and conductors made their way to that stage since it was built in 1900?
We hit it out of the park for Club 47 2014. It was the third year in a row that Tom Rush revived the old Club 47 shows he used to do back in the 1980's. His producing partners for the last two years were Rob Stegman and Todd Kwait of Kingswood Records. Rob and Todd produced the documentary Club 47: For The Love Of The Music and the award-winning documentary about Tom called: Tom Rush No Regrets.  They are no strangers to this music.
The evening featured a bunch of younger artists and showcased an eclectic mix of styles that are always welcomed by Tom's audience: singer songwriter Monica Rizzio, sax phenom Grace Kelly, Americana vocal trio Red Molly and surprise guest Ellis Paul. We also had a new core band member with 22 year-old Matt Nakoa on keyboards.
Except for Grace (and maybe Ellis Paul) none of them had been on the Symphony Hall stage before. It was so fantastic to see the look in their eyes as they walked on stage and looked out. I knew how they felt.
Backstage, Grace told me about how she made her debut at Symphony Hall when she was only 14 (she's now just 22!) and that she was so nervous about hearing her composition played by the Boston Pops and performing with them that it was a complete blur. She was looking forward to not being the center of attention and really enjoyed being a backup player with a couple of featured moments. She did an amazing soprano sax solo on Tom's classic version of Driving Wheel and then kicked it up a notch with her own interpretation of Over The Rainbow on alto accompanied by Joe Mennonna on piano and Marshal Rosenberg on percussion.
Monica wowed the house with her lovely songs Luckier Than You and Willie Nelson, played fiddle and sang backup with me on several of Tom's tunes. Red Molly proved their reputation as one of the best new Americana groups touring today. Playing three songs in the first half and two in the second and inviting me, Joe and Marshal to accompany them on a couple, they generally blew the place away. They also sang like angels on two new Tom songs: Voices and Far Away. Not bad for a Symphony Hall debut!
Ellis traded verses with Tom on the Sleepy John Estes song Drop Down Mama and did a tribute to Pete Seeger singing a hymn-like version of If I Had A Hammer backed up by Red Molly. It was one of the best things I heard all year.
I treasure doing these shows each year especially knowing that they will not go on forever. So, here's to Tom and Club 47. Let's take this one on the road kids!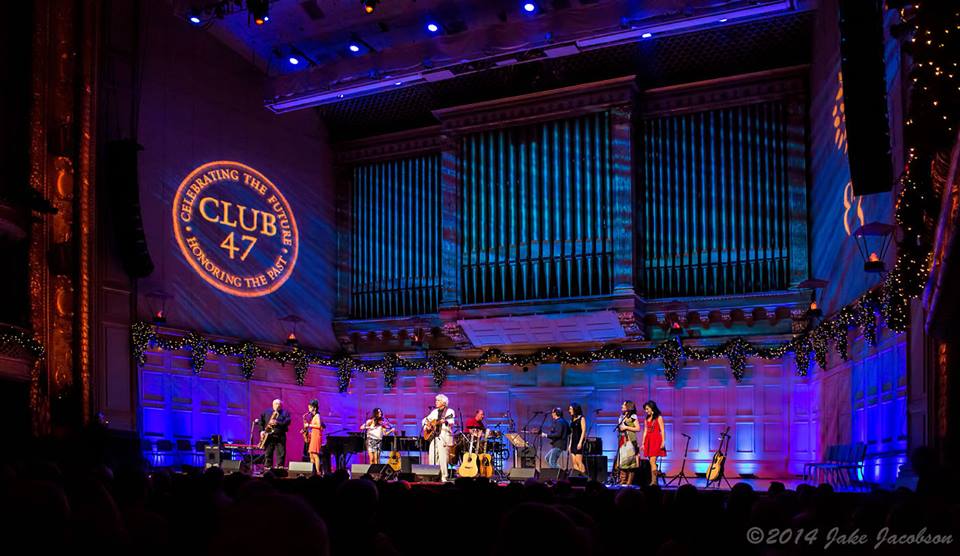 Special thanks to Neale Eckstein and Jake Jacobs for their beautiful photographs and to Bruce Tuller for fact checking me on Drop Down Mama!